Fri Jul 06, 2018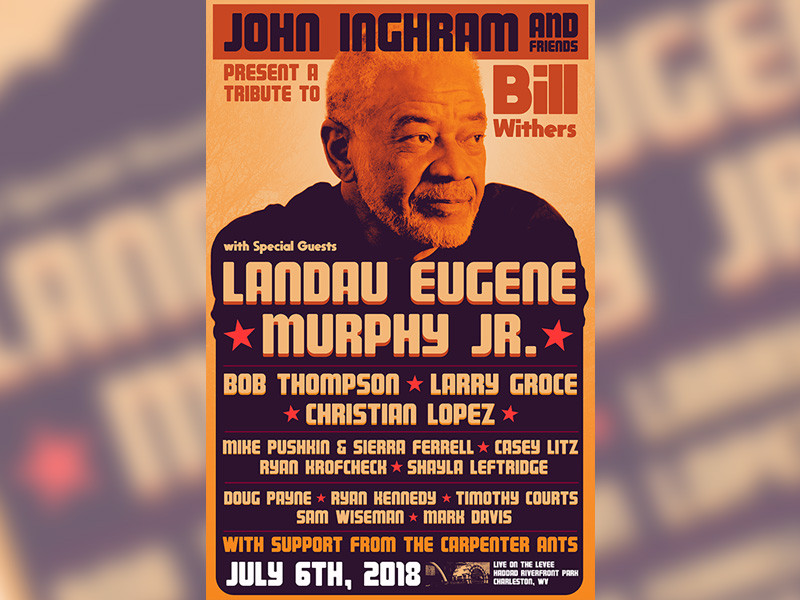 Headlining: John Inghram & Friends
July 4th weekend is always extra special at Live On The Levee in Charleston WV, and this year we celebrate the birthday of a proud West Virginia native and music icon! Rock and Roll Hall of Fame member, Grammy Award winner and multi-platinum hitmaker Bill Withers turns 80 this July, and an all star cast of West Virginia's top musicians will pay tribute to the legendary singer songwriter Friday night July 6th! Make plans now to attend our holiday weekend star-studded tribute to this proud native of Slab Fork West Virginia who wrote and recorded some of the most timeless hit songs in popular music, including "Use Me," "Ain't No Sunshine," "Just The Two Of Us" and the iconic "Lean On Me", and was the subject of the award winning documentary movie "Still Bill"!
Bill Withers super-fan John Inghram will lead an all star band and multiple guest vocalists saluting Bill Withers, including Bill's Columbia Records label mate Landau Eugene Murphy Jr., Larry Groce from Mountain Stage, Christian Lopez, jazz piano icon Bob Thompson, the Company Stores' Casey Litz, West Virginia Music Hall of Fame's Michael Lipton, Shayla Leftridge from Hybrid Soul Project and lots more! Best of all, the family friendly event is totally free! Opening act The Carpenter Ants begin at 6:30pm and the Bill Withers Tribute begins at 7:30pm. Don't miss it!
Opening: The Carpenter Ants
WV's premier rhythm & blues group, the Ants – guitarist Michael Lipton, drummer Jupiter Little, bassist Ted Harrison and vocalist/saxophonist Charlie Tee – have quietly amassed a resume that rivals many national groups. The group's trademark country-soul sound – rich, soulful harmonies, stinging solos and a rock-solid rhythm section – captures that rare, loose-but-tight feel, and has won the band international as well as regional fans. The Ants have twice traveled to Moscow. The trips found the group performing at a variety of venues including the 3,500-seat Russia Concert Hall, the city's most prestigious room, a Letterman-style TV show with a national audience of 100 million (!!), funky clubs and gaudy casinos. In the U.S., they've played all manners of venues – from church services and rallies for presidential candidates (Bill Clinton and John Kerry) to a biker festival and a nudist camp.
With an arsenal of classic and forgotten American music, the Ants wail through classic R&B, country-swamp and gospel-soul with equal conviction